The Anet A4 is an aluminum, delta-style FDM 3D printer kit produced in China. It arrives unassembled but its enough simple to set up. You will be able to assemble it in just 5 steps (approx. 10 minutes). Extremely cheap, it is a good entry-level printer able to produce decent quality prints. Aimed at home and hobby use, it is a good pick for both newbies, makers, and 3D printing enthusiasts.
The printer comes integrated with an aluminum, lightweight frame, an aluminum heated build plate and adjustable belts for smooth and stable operation. It includes an LCD display to easily manage the printing process. It enables standalone printing.
Anet A4 has been used to create 3D printed toys, architectural and educational models as well as medical equipment and functional parts. Continue reading for the full review.
This useful dicebox is extremely precise and dimensionally accurate. Due to its practical use, it has been printed at low resolution to speed up the printing process no matter of the finishing.
A user printed a multi-part Boeing777 prototype. Once assembled, it turned out really good and well-defined.
Specifications:
Print quality
Materials
Build volume
Printer controls
What's in the box
Look and feel
Price
Print quality
The Anet A4 is an FDM 3D printer that can print layers with an X/Y accuracy of 0.012 mm and a Z accuracy of down to 0.004 mm. The surface finish is not as smooth as you get with the more expensive printers but is more than enough for prototyping and household use. It allows printing models of up to ⌀ 200 x 210 mm as fast as 60mm/s. Thanks to its rigid aluminum alloy frame and ultralight carbon rod, it ensures great precision while printing.
Despite some visible layering, this cool Transformer shows clean shapes and sharp edges. As you can see, thanks to its dimensional accuracy it perfectly turns into a phone booth.
The Anet A4 has a 0.4 mm nozzle, giving you the best balance between speed and detail.
This pirate has been printed at 60 mm/s with a 0.1 mm layer height.
The print head runs on rods with linear bearings, making the design more simple, lightweight and effective, all characteristics that are desirable in a 3D printer. The rigid aluminum frame reduces the backlash of the parts, making for more precise and reliable printing.
Credit: @3dgedoens / instagram
Materials
Anet A4 prints with PLA, ABS and other materials.
The below-pictured Viking has been printed at 100 microns with PLA with the aid of additional supports. The fan-cooled, high-strength extruder cools the model down to reduce warping and stringing. It generally makes for higher quality prints.
Credit: @3dupad / instagram
Thanks to the heated print bed, the device is capable of producing reliable ABS models with low warping, just like the one pictured below.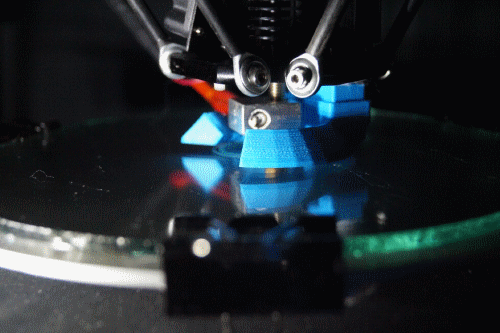 To ensure high reproducibility, we recommend installing an enclosed print chamber. This way the print quality would not be affected by temperature fluctuations as a result of drafts and other factors.
The Anet A4 prints with 1.75 mm filament, providing you with a wide choice of materials.
Build volume
The build area is ⌀ 7.9 x 8.3 inches (⌀ 200 x 210 mm). Larger models can be printed in parts and then be assembled using acetone (for ABS) or glue (for PLA).
Printer controls
The printer is controlled via PC or the built-in, key-operated LCD interface, which allows offline printing.
3D models can be printed from computer via an SD card or USB.
The printer software works with OBJ and STL 3D models. It is available for Windows and Mac OS X. Linux users will have to install a virtual machine or other software.
What's in the box
Anet A4 frame parts
Base unit
Aluminum build plate
A loose roll of test filament
USB cable
A set of tools for assembly
SD card and card reader
For some items, package content may change. In case of any questions, please get in touch.
Look and feel
Anet A4 is available in black. Its stylish look makes it ideal for both home and professional use.
The printer dimensions are 13 x 13 x 25.2 inches (330 x 330 x 640 mm). It weighs 15 lb (6.8 kg). The spool holder is mounted atop the printer.
Price
The price Anet A4 is $205.99 USD, which is reasonable considering its functionality.