The Anet A4 is a delta FDM 3D printer. Sold as an assembly kit. The device is equipped with an LCD-display, a heated platform and an extruder with a nozzle of 0.4 mm. The build area is 200 x 200 x 210 mm, minimum layer thickness is 0.1 mm.
It has been used to print a wide variety of models, including a Boeing777 prototype, a cool dicebox and so much more. Continue reading for the full review.
Another maker printed the Boeing777 prototype on Anet A4.
Specifications:
Print quality
Materials
Build volume
Printer controls
What's in the box
Look and feel
Price
Print quality
The Anet A4 is an FDM 3D printer that can print layers at 100 microns. The surface finish is not as smooth as you get with the more expensive printers, but is more than enough for prototyping and household use. Below is a model of a phone booth transformer:
While you can see some layering, the model is certainly functional and makes for a great toy.
The Anet A4 has a 0.4 mm nozzle, giving you the best balance between speed and detail. Below is a model of a pirate. It was printed at 60 mm/s with a 0.1 mm layer height.
This is a quality print that did not take too long to build.
The print head runs on rods with linear bearings, making the design more simple, lightweight and effective, all characteristics that are desirable in a 3D printer. Its metal body reduces the likelihood of any play, making printing more precise and reliable.
Here's a replica of the infamous Groot model:
Credit: @3dgedoens / instagram
Materials
Anet A4 prints with PLA, ABS and other materials.
Below is a model of the Viking warrior. Printed with PLA at 100 microns. The model was printed with the help of PLA supports which were then removed.
Credit: @3dupad / instagram
In part, the model is done so well because the extruder comes with a fan. By cooling the model down, it reduces warping, stringing and, generally, makes for higher quality prints.
Below is an ABS model: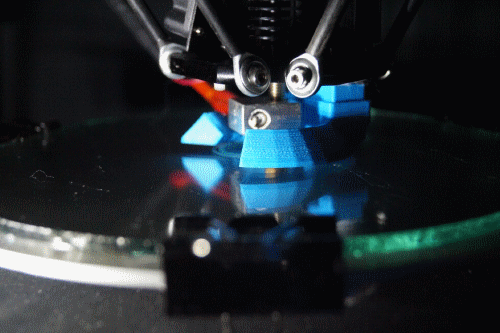 Thanks to the heated print bed, this is a quality print with minimal warping.
To ensure high reproducibility, we recommend installing an enclosed print chamber. This way the print quality would not be affected by temperature fluctuations as a result of drafts and other factors.
The Anet A4 prints with 1.75 mm filament, providing you with a wide choice of materials.
Build volume
The build area is 7.9 x 8.3 inches (200 x 210 mm). Larger models can be printed in parts and then be assembled using acetone (for ABS) or glue (for PLA). Some of our customers have printed entire chairs this way!
Printer controls
The printer is controlled via PC or the built-in LCD interface.
3D models can be printed from computer via an SD card or USB.
The printer software works with 3D models in .OBJ and .STL formats, and is available for Windows, Mac OS X. Linux users will have to install a virtual machine or other software.
What's in the box
Look and feel
Anet A4 is available in black color. Its stylish look makes ideal for both home and professional use. The printer dimensions are 13 x 13 x 25.2 inches (330 x 330 x 640 mm). It weighs 15 lb (6.8 kg). The spool holder is mounted on top of the printer.
Price
The price Anet A4 is $205.99 USD, which is reasonable considering its functionality.